Notes
Topic: US Coffee Industries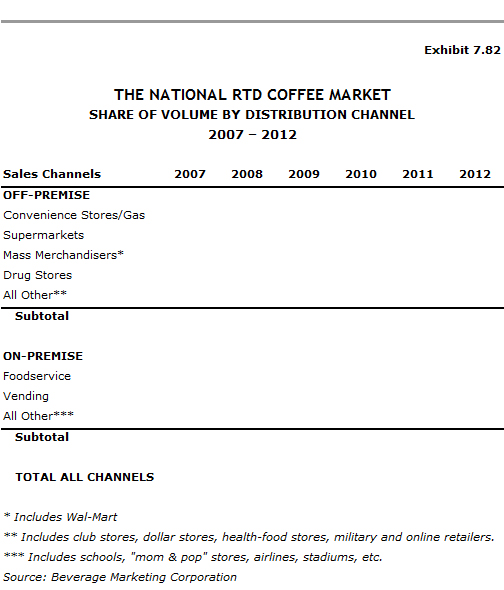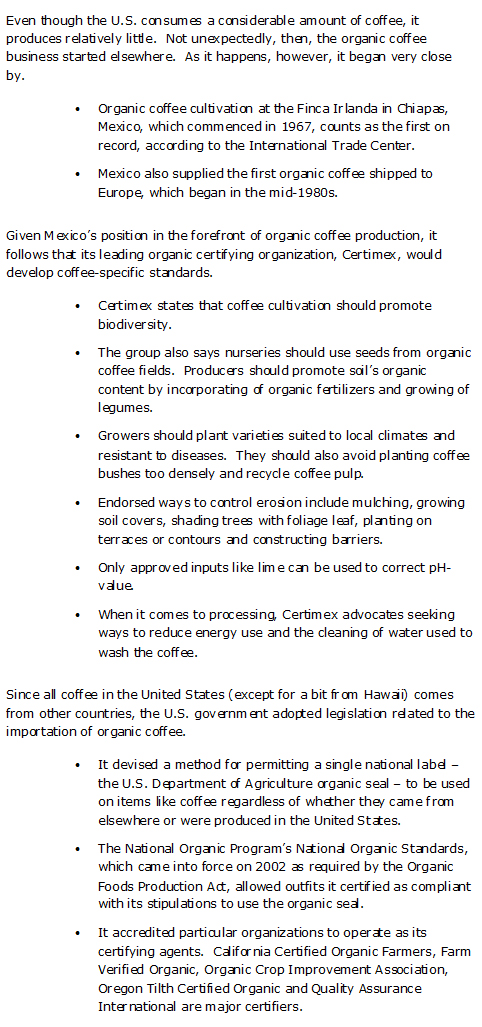 snipets.wikidot.com
http://topstoriesneworleans.com/news/today-is-international-coffee-day/
http://www.powerpennyplays.com/?p=202
http://gadgetwise.blogs.nytimes.com/2009/09/23/from-starbucks-coffee-from-the-future/
http://www.specialty-coffee.com/ME2/Audiences/dirmod.asp?sid=&nm=&type=Blog&mod=View+Topic&mid=67D6564029914AD3B204AD35D8F5F780&tier=7&id=F6867F19FBDE4102B753036E63E69EEB
http://www.highbeam.com/doc/1Z1-21595_6_65.html
http://www.blogcatalog.com/topic/coffee+industry/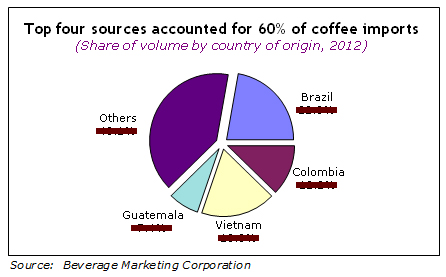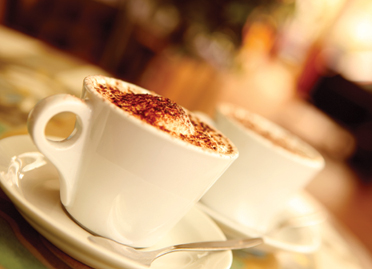 With Starbucks' U.S. store business soft, McDonald's rolling out its McCafé specialty beverages concept and Procter & Gamble selling its Folger Coffee division to J.M. Smucker, massive changes are brewing in the U.S. coffee market, where sales surged 11% in 2007 to reach $39.5 billion. Covering both foodservice and retail channels, Packaged Facts new report analyzes in depth the broad and complex trends affecting this market, including the effects of the economy, worldwide green coffee prices, changing coffee consumption trends, competition from other beverages like sodas and energy drinks, corporate social responsibility and health and wellness benefits. Looking ahead, much of the growth will be coming from the specialty coffee segment, which will continue to chart double-digit growth rates despite the troubled economy, the report predicts, as marketers continue to focus on specialty coffee products and as single-portion packs continue to gain ground in the market.
Homing in on the foodservice market for java, the report examines at length trends in coffeehouse chains like Starbucks and Caribou Coffee, quick-service restaurants like McDonald's and Dunkin' Donuts, convenience store chains including 7-Eleven, office coffee service and hotel in-room service. It also thoroughly examines the myriad retail channels for purchasing packaged ground, whole bean and ready-to-drink (RTD), including supermarkets, mass merchandisers, supercenters, warehouse clubs and convenience stores.
Coffee in the U.S. makes important predictions and recommendations regarding the future of the coffee industry, and pinpoints ways current and prospective market participants can capitalize on current trends and spearhead new ones. No other market research report provides both the comprehensive analysis and extensive data that this study offers across following segments:
The Products (descriptions of myriad classifications, from Arabica and Robusta to Fair Trade and Shade Grown).
The Market (including market size, composition, projected market growth, future trends, and international perspective).
The Marketers (market structure plus detailed marketer and brand shares).
Sales and Distribution Channels (extensive discussion of foodservice and retail venues).
Marketing and New Product Trends (e.g., foodservice/retail cross-over and number of product launches by trend/type).
Competitor Profiles (packaged product marketers and foodservice players).
The Consumer (demographics, attitudes and lifestyle trends).
Report includes extensive information from hundreds of sources as well as dozens of practical, easy-to-read charts, tables and graphs, all of which are thoroughly examined in light of the many dynamic trends at play in this rapidly shifting market.
The U.S. coffee market is percolating, as consumers explore new ways to make and drink coffee. From individually brewed cups at home (the so-called pods), to blended beverages on the go, the market continues to evolve, with the coffee consumer willing to explore new products.
The U.S. Market for Coffee and RTD Coffee, new from Packaged Facts, offers a comprehensive look at this $34 billion market. On the retail side, the report examines coffee sold for future brewing (beans and ground, and instant), RTD coffee sold in retail (e.g., Frappaccinos), and the phenomenon of "pod"-brewed coffee. The report examines the myriad retail channels for purchasing java, including supermarkets, mass merchandisers and club stores. Extensive coverage is devoted to the enormous foodservice market for coffee - while Starbucks leads the nation, many competitors are battling the Seattle behemoth for market share, including your local convenience store and supermarket.
Report Methodology
The information in The U.S. Market for Coffee and RTD Coffee is based on both primary and secondary research. Primary research involved on-site examination of the retail and foodservice milieus, interviews with marketing, public relations and industry analysts within the coffee market and consultants to the industry. Market size data was derived from Information Resources, Inc. Secondary research entailed data-gathering from relevant trade, business, and government sources, including company literature. New product information is gathered via literature research, personal interviews and data compiled by ProductScan, a service of Datamonitor. Consumer behavior patterns and data were derived from Simmons Market Research Bureau's National Consumer Survey for Spring 2005.
What You'll Get in this Report
The U.S. Market for Coffee and RTD Coffee makes important predictions and recommendations regarding the future of the retail and foodservice coffee market, and pinpoints ways current and prospective marketers can capitalize on current trends and spearhead new ones. No other market research report provides both the comprehensive analysis and extensive data that The U.S. Market for Coffee and RTD Coffee offers. The report addresses the following segments:
The Products
The Market, both retail and foodservice
Marketing Dynamics
Retail and Distribution Channels
The Consumer
Product Trends
Plus, you'll benefit from extensive data, presented in easy-to-read and practical charts, tables and graphs.
How You Will Benefit from this Report
If your company is already competing in the coffee industry, or is considering making the leap, you will find this report invaluable, as it provides a comprehensive package of information and insight not offered in any other single source. You will gain a thorough understanding of the current market for products and the trends that affect them, as well as projected sales and trends through 2010. Contributing to that understanding will be a complete analysis of coffee sales data, both retail and foodservice, and a detailed discussion of the coffee consumer based on Simmons data.
This report will help:
Marketing Managers identify market opportunities and develop targeted promotion plans for coffee.
Research and development professionals stay on top of competitor initiatives and explore demand for coffee and RTD coffee.
Advertising agencies working with clients in the coffee industry understand the product buyer to develop messages and images that compel consumers to purchase these products.
Business development executives understand the dynamics of the market and identify possible partnerships.
Information and research center librarians provide market researchers, brand and product managers and other colleagues with the vital information they need to do their jobs more effectively.
http://www.howcanifindit.com/annc:links-to-all-student-projects
Cool Tools:
Google sets
To search for number of something.. use * as place holder
"there are" * "types of hawks"
Star at beginning in link means open in new window [*]
Resources
Sites to use for evaluation
Resources to use for evaluation
http://www.howcanifindit.com/industry-sectors
Discussion
Long term research projects, or more difficult queries, require another level of effort and analysis.

Gather and save as much information as you can.

Use information from the search results, page characteristics, and contents of the results pages.

Look for names, contents, concepts, URLs, page titles, unique words, dates, places, facts, etc.

Create a wiki site to keep information and links.

Sometimes finding a set of related nouns and unique names can help you find what you need.

Use Google Sets
Use the queries ["type of X"], ["there are * types of X"], ["compared to X"], ["X vs." OR "X versus"]

Evaluate the potential validity of the Web page from which you get information.

Facets to evaluation

Location of the page
Speaker's identity
Speaker's motivation
Credibility of sources
Speaker's history
Speaker's reputation
If this is your first site
Then there are some things you need to know:
You can configure all security and other settings online, using the Site Manager. When you invite other people to help build this site they don't have access to the Site Manager unless you make them administrators like yourself. Check out the Permissions section.
Your Wikidot site has two menus, one at the side called 'nav:side', and one at the top called 'nav:top'. These are Wikidot pages, and you can edit them like any page.
To edit a page, go to the page and click the Edit button. You can change everything in the main area of your page. The Wikidot language is easy to learn but powerful.
You can attach images and other files to any page, then display them and link to them in the page.
Every Wikidot page has a history of edits, and you can undo anything. So feel secure, and experiment.
You can choose different themes in the Site Manager, and you can write your own theme if you know CSS.
To start a forum on your site, see the Site Manager » Forum.
The license for this Wikidot site has been set to Creative Commons Attribution-Share Alike 3.0 License. If you want to change this, use the Site Manager.
If you want to learn more, make sure you visit the Documentation section at www.wikidot.com
If you've already created other sites
Then we don't need to tell you how addictive Wikidot is. But maybe it's worth reminding you of some of the advanced Wikidot features:
You can run your Wikidot site on its own web domain name.
You can use Google Analytics to measure traffic going to your site.
Giving away free wikis is not enough for us — we are also offering you a way to earn money from your wiki using our AdSense implementation.
We hope you enjoy using Wikidot as much as we do. If you want to discuss Wikidot, there's an active community of Wikidot enthusiasts where you can share tips and ideas.
Class 8 Notes:
specialized tools for news search
why is news search different?
- focus: legitimate (source), current
desired features: response time, relevance, update speed (before: paper was faster than news search…now, articles in the last hour), quality of sources
basics of news search:
providers: yahoo & google news
google lab: google fast flip, google news timeline tab
silo breaker
newssift
searching for news:
words/phrases - certain phrases, names will pop up in multiple searches
date -
event -
source -
source location -
actor -
searching on who, what, when, why, how
special features: rank/sort - date & relevance
about location
RSS feeds
categories
author
photos
specialized news search
- visualization - work with visual rep of news
google timeline
- scanning - gogle fast flip
allows you to see first page of website
can read a bit of the text
historical news: google news
google archive search -
newspaper scanned in
Analysis sites:
- relationship and patterns
silobreaker - link queries / connect them
flow of storeis over time
concept based queries - newssift.com
to refine your search, select and suggestion to receive the most relevant results: business topic, org, places, person, themes for "bank"
news you need, delivered when its needed
http://www.cbsnews.com/stories/2009/10/02/opinion/main5358543.shtml
page revision: 16, last edited: 01 Nov 2009 03:43